American Express Cash Magnet® Card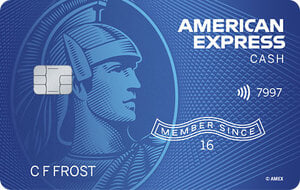 $150 Cash Back
$150 back after $1K in purchases in first 3 months. Terms apply.
Click Here to Apply
No Annual Fee
---
Card Type: Amex Credit Card
Earning rate: 1.5% everywhere
Noteworthy perks: 0% Intro APR for 15 months on purchases and balance transfers, then a variable rate, currently 14.49%-25.49% See rates & fees.
Application Tips

Amex Application Tips



Safe to Apply: Amex is the safest bank for trying your luck at a new welcome bonus. They don't usually issue a hard pull when denying your application. Plus, they'll now warn you during the application process if you're not eligible for the bonus.


Lifetime Rule: If you've ever had the same card before, you are most likely prohibited from getting a welcome bonus for the card if you apply now. Fortunately you'll be warned during the application process if this is the case. Amex is known to "forget" that you've had a card after about 7 years.


5/90 Rule: In general, you can get at most one credit card within 5 days and 2 within 90 days. The 5 day limit is not enforced when your applications are automatically approved. Neither rule is enforced for charge cards.


5 credit card max:Amex usually won't approve applications for new credit cards if you already have 5 or more Amex credit cards open. This limit does not apply to charge cards.


Better Offers: You may be able to get a better offer than the best available public offer. Details here.


Hard inquiries combine into 1 when approved same day



Check application status here.
If denied, call reconsideration: 877-399-3083 (new accountholders); 866-314-0237 (current accountholders)
How to Meet Spend Requirements

In order to meet minimum spend requirements, people often look for options to increase spend in ways that result in getting their money back. These techniques are referred to as "manufacturing spend". American Express has terms in their welcome offers that

exclude some manufactured spend techniques

from counting towards the minimum spend requirements for the welcome bonus. For example, most new cardmember bonuses have terms like this:

Eligible purchases to meet the Threshold Amount of this offer do NOT include fees or interest charges, balance transfers, cash advances, purchase of travelers checks, purchase or reloading of prepaid cards, purchases of gift cards, person-to-person payments, or other cash equivalents.

That said, many techniques for meeting minimum spend are perfectly fine. Here are some techniques that are safe for meeting Amex minimum spend requirements (click each link for more information):

---
Related Cards (Amex cash back cards)
Last updated on November 1st, 2019