Hurry, these will probably sell out quickly…
Through eBay, GiftCardMall is offering $100 Sears gift cards for $80. And, start your shopping at TopCashBack or BeFrugal for another 1.5% cash back!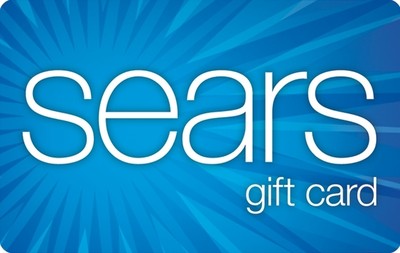 You can pay for these with eBay gift cards (see eBay gift cards return to stores! Here's why that's awesome.). And, you can buy eBay gift cards for 5% off right now! One possible problem, the Sears discount might be sold out by the time your eBay gift card is ready:
"Delivery may take up to 24 hours. Please note that there may be a delay of 2-4 hours from delivery before the Gift Card can be redeemed on eBay."
UPDATE: I just placed an order for an eBay eGift card and received an email saying that expected delivery is Monday.
UPDATE 2: I received the e-gift card already! So, the double dip works! However, I can't use the code yet (need to wait 2 to 4 hours).
Also, check your email to see if you were targeted for extra eBay Bucks which will be earned with the purchase of the Sears gift cards (but not the purchase of eBay gift cards). Update: Oops, looks like 4X eBay Bucks offer ended yesterday.
Never miss a Quick Deal, Subscribe here.